Here is a list of Celtic Saints celebrated today
St. Caidin, Confessor in Ireland,
Ss. Canna, Saudren and Crallo, Confessors in Wales,
St. John of Beverley,
St. Marnock, Bishop of Kilmarnock in Scotland,
St. Goeznoveus of Brittany,
Saint Caidin of Domhnach Caoide, October 25

1

The feast of Saint Caidin is recorded in some of the Irish Martyrologies for 25 October. The table in the Martyrology of Donegal lists:
Caoide, abbot, of Domhnach-Caoide, in Tir Eoghain, diocese of Derry, 25 Oct. (8 Cal. Nov.); Cadinus in Latin. His church, his bell, and his staff are preserved.

The actual entry reads:

25. D. OCTAVO KAL. NOVEMBRIS. 25.

[The festival of CAOIDE, Abbot, patron of …. chaidh.]

to which the notes add:

The blank in the text ought to be filled by the word Domhnach. (R.)

The locality of Domhnach Caoide, or Downaghede as it was anglicized, is mentioned in a later medieval record of the Diocese of Derry. The editor of these records, Bishop Reeves, quoted Colgan, who mentions the 28th October, rather than the 25th in connection with this saint. He also introduces something of a red herring in identifying Caidin with a Saint Cadoc, a missionary to the Morini in France:

https://www.omniumsanctorumhiberniae.com/2015/10/saint-caidin-of-domhnach-caoide-october.html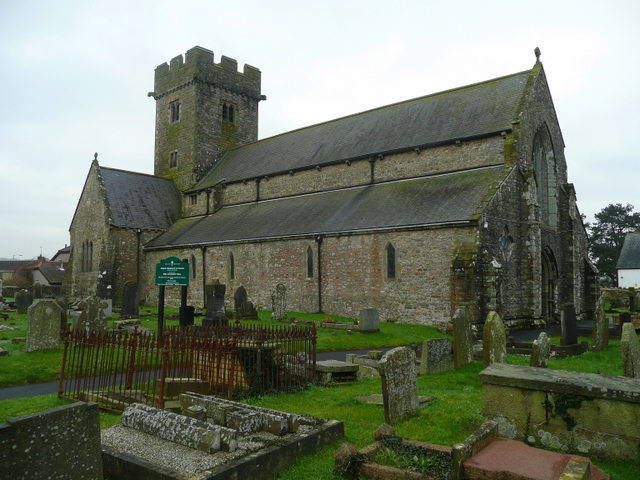 Ss. Canna, Saudren and Crallo, Confessors in Wales -St Crallo's Church

2
There is mention of St Crallo's Church which may have some affinity with the saint.
The church is dedicated to Crallo, a 6th century Celtic saint who is said to be linked to both Saint Illtyd and Saint Canna. Coychurch, the settlement where the church is located, is known in Welsh as Llangrallo; Llan – Church, Grallo – Crallo, the church of Crallo. It is thought that the saint established a church on the location prior to the construction of the current mediaeval structure.
The current church was established as part of St Crallo's College in the mid to late 13th century.
The church had experienced no alterations since it was built until John Prichard began a restoration in 1870.—St Crallo's Church – Wikipedia


St. John of Beverley

3

HOLY HIERARCH JOHN OF BEVERLEY, BISHOP OF YORK, WONDERWORKER
Commemorated: May 7/20 (repose) and October 25/November 7 (translation of relics)
The attitude of compassion, humility, and charity of a number of early English saints has survived centuries of Protestantism and secularism. One of them is St. John of Beverley, whom our great source, the Venerable Bede of Jarrow, described as a wonderworker is one of them.
In the mid-seventh century, St. John was born to a noble family in Harpham, Yorkshire, in the kingdom of Northumbria (the north of England). He received an exceptional education as a young man, studying at Canterbury's most illustrious school and seminary, most likely under the leadership of the saint archbishop Theodore and the holy abbot Hadrian. He learned Greek and Latin mathematics, astronomy and other sciences, Church music, art, church poetry and medicine. Knowledge of medicine later helped him cure many people of diseases. The secular life, with all of its temptations, did not, however, entice the young man. Instead, St. John was made a monk and returned to Yorkshire, where he was born. He entered the Whitby twin monastery, currently located at the mouth of the River Esk in North Yorkshire, where he studied the spiritual life from the holy Abbess Hilda. The young monk spent considerable time in the monastery library and became known as a Scholar and Commentator on the Holy Scriptures.
St. John was consecrated Bishop of Hexham, Northumbria, in 687. (now in Northumberland south of the River Tyne). Before and after St. John, this diocese produced many other saints. A bishop's life entails continuous labours throughout his diocese, and St. John carried this burden admirably. His heart, however, was drawn to the hermit's solitary existence. On the bank of the River Tyne there was a quiet cemetery with a chapel in honor of the Archangel Michael. Every year, John would go to that area for prayer, accompanied by a few disciples. He especially enjoyed spending Lent there, when he would distribute considerable alms. The saintly ascetic used to request that his comrades find him destitute and suffering people to care for. Once a mute boy who also had other diseases was taken to St. John. By making the sign of the cross over him, the saint healed him and taught him to talk.The holy man was later venerated as the patron-saint of the deaf and mute because of this miracle. St. John's students included the famous scholar and historian Venerable Bede, compiler of the History of the English Church and People, through whom we learn many details about the history of England prior to 732. St. John is said to have ordained the youthful St. Bede as a deacon and later as a priest.
St. John became Bishop of York in 705, following the death of St. Bosa of York. He was a very active and devoted archpastor in that see for thirteen years. By his innumerable miracles of healing, caring for the sick, disabled, cripples, and homeless, and his infinite compassion for all, he consecrated churches, visited monasteries and convents, and inspired love in people's hearts. The holy bishop always lectured much during his long travels over his enormous diocese, educated pupils in church singing, and eventually became a patron of musicians, according to Herebald, his disciple who later became an abbot.
St. John was always concerned about young people's education and training, therefore he established schools and taught young adults diverse arts. Here are a handful of his amazing feats (many were attested by St. Bede). Herebald, as already mentioned, fell off his horse and was seriously injured, but was instantaneously healed thanks to the holy hierarch's intercessions. One abbess pleaded with the saint to intercede for her dying young nun, who was in excruciating pain in her arm. St. John approached the girl, blessed her, and she healed immediately. A wealthy man begged that the man of God come to his home because his wife was severely ill. St. John ordered that the woman drink the water he had just blessed as soon as possible, and she was restored in the same minute. Another man, Addi, sought St. John to assist his dying servant; the bishop offered up his earnest prayers, and the servant immediately recovered his health. A deacon glanced into a chapel where St. John was praying one evening and saw him surrounded by an unearthly light with a white dove hovering above him (a symbol of the Holy Spirit)….. Paraphrased from Orthodox Christianity (OrthoChristian.Com. 2021)


St. Marnock, Bishop of Kilmarnock in Scotland

4
INTRODUCTION
A saint Marnock was commemorated in on October 25th in Scotland at least by the mid 15th century; he appears in many of the Scottish calendars where he is consistently a bishop. He is linked specifically with Kilmarnock (presumably the one in Ayrshire, though there are others) in the Aberdeen Breviary (though there are no lessons), Mart. Ab. and Adam King. The name Kilmarnock is on record from the early 14th century (Kylmernoc 1315×1321, RMS i no. 46) but early traditions relating to the saint of the place have not survived. Paul records a Fair of St Marnoch at Kilmarnock on Oct 20th (Paul 1918 p 168). This saint may correspond to Ernán of Midlúachair qv and Ternóc m. Ciaráin qv.

Saints in Scottish Place-Names
Funded by a Leverhulme Trust Project Grant
Born in Cornwall; died 675. Bishop Saint Goeznoveus of Quimper, Brittany, brother of Saint Maughan, founded a monastery near Brest, where he died (Benedictines).

Celtic and old english Saints 25th October 2021

Bibliography