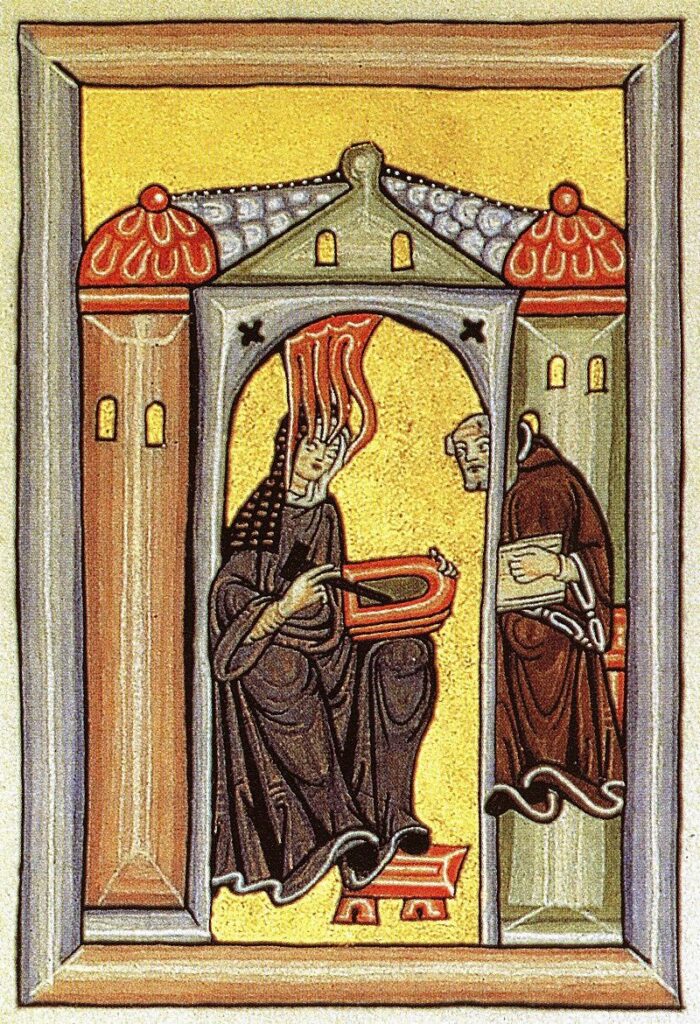 'The soul is kissed by God in its innermost regions. It is a yearning to give one's self to God's Way.'
HILDEGARD OF BINGEN
" … I love you, O God, my strength … "
PSALM 17
Sunday Liturgy
October 31, 2021
31st Sunday in Ordinary Time
Pentecost XXIII
Lectionary Readings :
Hebrew/Old Testament Scriptures, The Book of Deuteronomy 6:2-6
Listen
Hebrew Psalm 17
Love
Christian/NewTestament Scriptures, Hebrews 7: 23-28
Sacrifice
The Holy Gospel, Mark 12:28-34
Neighbour
• REFLECTION

… Greetings Friends, Companions on The Journey, Custodian/Guardians of Wells Far and Near !
How are you bearing up ?
Anyone getting under your skin at present ? Any exasperating folk driving you mad ?!?
This Weekend's Liturgy calls us to embrace the whole of creation, especially our companion human beings made in the image of the Divine – a tall order indeed !
We are called to love one another, not necessarily to like each other !!
'If we do not love someone we see, we cannot love God whom we cannot see' (1 John 4:20)
Ouch – a challenge for most of us
Scripture teaches us that love of God cannot be separated from love of one's neighbour because 'Love is the fulfilment of the Law' (Romans 13:9-10)
So …
Who is your neighbour ?
Have a chat to the Lord …
Source Notes
Break Open The Word
St Paul's Sunday Missal
Inclusive Reading Project
Celtic Traditions and Celebrations
•

REMEMBERING…

… those whose Anniversaries occur at this time
… those who have died recently
… those who are in need of our healing prayers
Archbishop Leonie, Melbourne; cancer treatment
… those who are celebrating a life milestone
… any Special Intention
the Hazelbrook (Blue Mountains) Well of St Jude; CustodianGuardian Roger; Feastday celebrated last Thursday 28/10/21
•
THE MONTH OF NOVEMBER …

… All Saints Day, Monday 1/11
who is your 'person of inspiration' ?
the Celtic Peoples celebrate Samhain (pronounced 'sar-ween) meaning 'summer's end', the start of the Celtic year
a time of communing with our ancestors and hear the wisdom of the Otherworld
done roads take us to the past, others to the future
don't be afraid to be afraid
… All Souls Day, Tuesday 2/11
we remember, reflect upon, pray and thank God for, all our departed relatives, friends and ancestors
… November is a time to remember those who have gone before us
in the snailmail in the next days you will receive an envelope into which you may like to write the Names of Loved Ones whose Memory you would like to be offered during our November Liturgies
feel free to take up this offer
… resuming our Combined Liturgies at St Basil's : third Sunday, 21/11; 11am
• FEEDBACK …
… thank you to those folk who give feeedback/remain in touch on a regular basis ; very much appreciated
• GENTLE REMINDER …
… Stay safe
Wear a mask
Wash hands
Keep distance
Get vaxed
Get a 6 monthly booster
Spring Blessings
++ Peter
S/G CoHOPECOMMUNITY
A/B ACoANTIOCH

Image attribution Attribution By Unknown author – Miniatur aus dem Rupertsberger Codex des Liber Scivias., Public Domain, https://commons.wikimedia.org/w/index.php?curid=1718595