" … the spirit you received is not the spirit of slaves bringing fear into your lives again … it is the spirit of sons and daughters … (for) we are heirs … of God and coheirs with Christ, sharing in the sufferings so as to share the glory … "ROMANS 8 : 8 – 17

Pentecost LiturgySunday June 5, 2022

Hullo Friends, Companions, CustodianGuardians of Wells Far, Near and Emerging :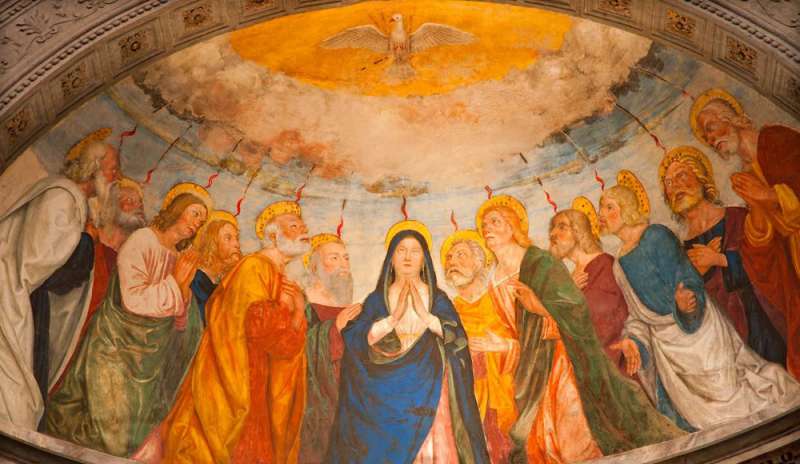 • REFLECTION/MEDITATION
…… Keeping warm as we begin the new season of Wintry June, is not an optional extra at the moment, is it ?!Not in this part of the world at least for the folk living in the Northern Hemisphere are basking in the tentative warmth of Summer there
Yet, the same sun shines upon us !
This coming (Past) Sunday celebrated the end of the Easter Season and the beginning of a new Church Season called 'Ordinary Time' or 'Time After Pentecost'
Pentecost culminates our 50-day Easter celebration of salvation – the untiring gift of God's self to humanity … in creation, in covenant, in the prophetic word, in the incarnate Word, and in the
GIFT OF THE SPIRIT

In our receiving the Holy Spirit (at our Baptism/Christening/Chrismation/Born Again Experience) to dwell WITH US, we became 'joint HEIRS with Christ' !
In our world the most important and wealthy people live on the best places (Queen Elizabeth and Her Heirs in palaces ; Johnny Depp, Amber Heard and movie stars in mansions)
Wondrously, Pentecost reminds us that our God dwells within US – temples of the Holy Spirit !

• REMEMBERING .
….. those who are in need of healing prayer… those who have died… those whose Anniversaries occur around this Time… those who are celebrating a Life Milestone … those who give thanks for a blessing received

• GENTLE REMINDER .
….. Project Compassion/Caritas Australia donations are finalised this weekend ~ those with donation boxes please make contact with CA, ~ we've been keeping a large donation box here in Sydney and the counting of coins will begin ASAP !

• PASTORAL MATTERS
…… we would love to hear from each of our Wells – rural/country/city – for inclusion on our Website Page~ tell us a little about your Well~ how you see your Well's presence in your Community
… we value any feedback, too ~ share with us how you can be supported more ~ any suggestions/ideas are welcome
… Fr Andrew Blair has been granted Laicisation ~ a Celebration of Ministry/Presentation of a Certificate of Laicisation will take place at a date to be fixed in the near future~ Andrew will continue to manage the CoHOPESYDNEY Website~ we thank Andrew for his ongoing and self-less commitment to serving the wider Christian Community through his many and varied God-given Gifts …
Winter Blessings++PeterS/G CoHCommunitySydneyA/B ACoAntioch
oOo
" … acquire inner peace and a multitude will find their salvation near you … "- 'Poustinia', Catherine de Hueck Doherty, 1975
oOo