St. Cybi of Caenarvon
St. Gervat of Kinnedor
St. Moroc of Scotland
St. Tysilio of Wales
Of the four Saints named for today the life of St. Cybi of Caenarvon, Abbot Bishop
(Cuby, Keby), provides us with significant details of his life, in that there is a detailed description of his life. Remember that these saints date from sometime back, in this case, the 6th century A.D. we are lucky to discover any accurate information about their life and works.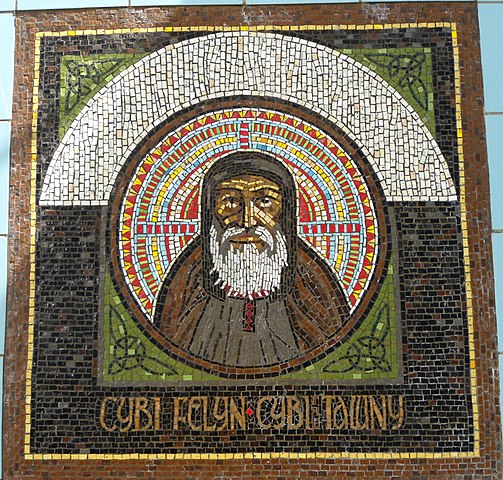 A summary of the life of Saint Ciby
The sixth century. Cuby is one of the few Cornish saints who appears to have been born there. He could have been Saint Selevan's (Levan's; f.d. June 8) son and Saint David of Wales' (f.d. March 1) relative. He was consecrated a bishop and lived at Tregony with ten disciples.
Place names show he was an active missionary monk who toured southeast Wales before sailing along the west coast to Anglesey. The prince Maelgwn Gwynedd is claimed to have handed him a ruined Roman fort for his headquarters here, where Holyhead now lies; it is still known in Welsh as Caer Gybi, Cybi's fort. He is the patron saint of both Llangibbi in Monmouth and Llangybi in Carnarvon.
The sole extant Life of the Saint derives from the 13th century and describes a pilgrimage to Jerusalem as well as a long stay with Saint Enda (f.d. March 21) on Aranmore.
We are told that he was accompanied on Aran by an elderly relative named Cungar (f.d. November 7), an enigmatic saint whose name can be found in Wales, Brittany, and Somerset (Congresbury). Matthew Arnold's poem "East and West" narrates, but misunderstands, an Anglesey tradition concerning Saint Cybi (Paraphrased from sources –Attwater, Benedictines).
Please follow the links to the other three to glean the little there is.
Image: – Cybi. (2023, July 31). In Wikipedia. https://en.wikipedia.org/wiki/Cybi-By User:Cls14, CC BY-SA 4.0, https://commons.wikimedia.org/w/index.php?curid=70902544
Other sources: –Cybi – Wikipedia ,