St. Odhran of Iona – read onsite.,
St. Abban of Wexford – read below
St. Colman of Senboth-Fola – read below
Ss. Ia and Breacha of Cornwall Virgins – there is no information to be found.
St. Athelstan of England – read below
Above are the list of Saints recorded on the web by Ambrose Mooney, from the Celtic Saints website, where sufficient I shall leave you to read it yourselves rather than quote it, as I have usually done.
1.St. Odhran of Iona I can leave for you to read yourselves – here St. Otteran of Iona, Abbot
(Odhran, Oran) Celtic and Old English Saints – 27 October (celticsaints.org)
2. St. Abban of Wexford – some information is there, though I am going to seek more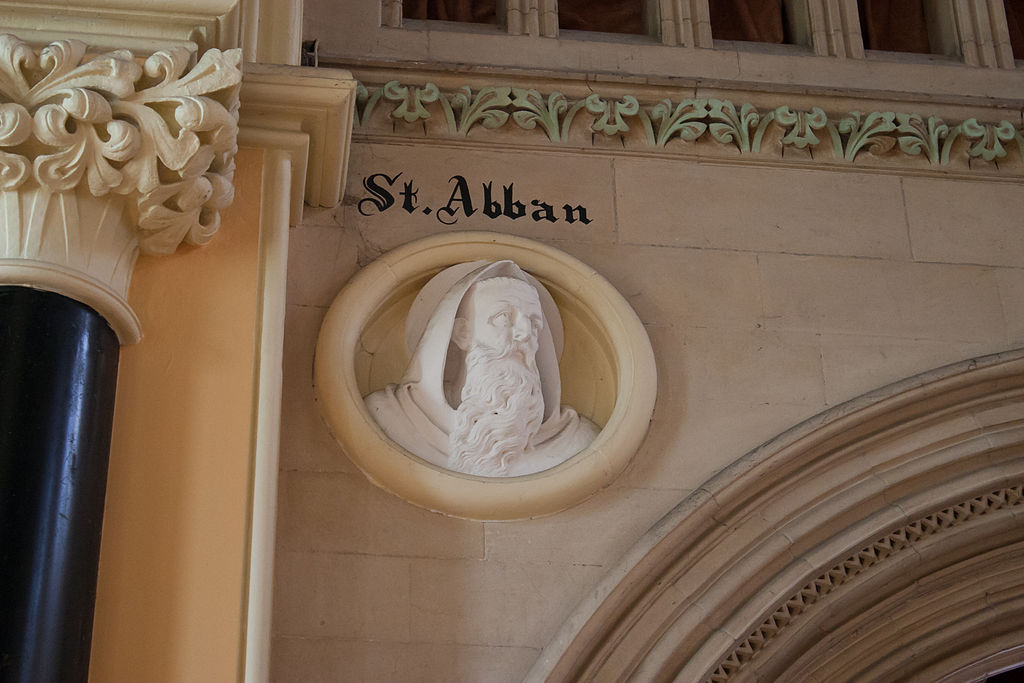 He was more fully known as Abbán M. Laignig, Moccu Cormaic, also Abbán maccu Comaic, (Mart. T); Blat (Mothers of the ss 722.79). Abán of Adamstown (Ó Riain, Dictionary, 51)
Introduction
In his vita, (Life) Abban is portrayed as a contemporary of Columb Cille and Brénainn of Clonfert. The vita, which may have been written by Albinus Ua Maoil Mhuadh, bishop of Ferns (died 1223), is preserved in two Latin redactions. He is one of Leinster's three sons, along with Cóemgen of Glendalough and Moling of St Mullin's. A vernacular variant, possibly authored by Franciscans in New Ross, Wexford, is less concerned than the
By Andreas F. Borchert, CC BY-SA 4.0, ttps://commons.wikimedia.org/w/index.php?curid=22009081
original with miracles aimed to safeguard property interests. Abbán also appears in the Life of Finnian of Clonard's, where he baptises Finnian, and in the life of Molua of Clonfertmulloe's . His cult can also be found in Leixlip, Co. Kildare, and Kirk Braddan, Isle of Man, in addition to Co. Laois and Co. Wexford (Ó Riain Dictionary, 51-2). Abbán occurs as a pilgrim saint in an Irish Litany, possibly from the 9th or 10th centuries: "Thrice fifty men of orders….who went on pilgrimage in one company with Abban Mac hUí Chormaic" (Plummer 1925, 61).(Paraphrased using Quillbot)
"Gender
Male
Associated Places
Cell Abbáin (Killabban, barony of Ballyadams, Co. Laois); Mag Arnaide (Moyarney, barony of Bantry, Co. Wexford).
Genealogies
In Mart. T he is identified by his membership of the Moccu Cormaic. He is assigned to the Laigin, specifically Uí Labrada, in Rec. Mai 287.1: Abban Maige Arnaide & Cilli Abbain m. Lagnig m. Cainnig m. Labrada m. Cormaicc m. Con Corbb. His mother is either Mella, sister of St Cóemgen (Rec. Mai. 287.3), or Cainech Apad ingen Lugna (Mothers of ss, 722.79). Lugna is also father to Bishop Ibar (Mothers of ss, 722.14)."
Reference Saints in Scottish Place-Names – Abbán m. Laignig, moccu Cormaic (gla.ac.uk) – please read more here, there is less extra information of interest regarding the vita(life), just the related saints and other lesser information.
St. Colman of Senboth-Fola
Born in Ireland; died c. 632. Abbot Saint Colman of Senboth-Fola, in the diocese of Ferns, was associated with Bishop Saint Maidoc of Ferns (January 31) (Benedictines
"The Troparion of St Colman of Senboth-Fola tone 8
Through trials and temptations thou didst shepherd/ the monastics of
Senboth-Fola, O Father Colman,/ and didst guide many souls on their
pilgrimage to Christ./ Wherefore, we pray thee, intercede with Him, that
our souls may be saved.
Apparently, there were many St. Colman's, this is an extract from Wikipedia about a Saint Coleman though the feast day is not 27th October.
He was educated and lived as a hermit in Saint Enda's monastery on Inishmore/rainn, the largest of the Aran Islands. Near Kilmurvy, he built a church, Teampuill Mor Mhic Duagh, and a modest oratory, Teampuill beg Mhic Duagh. These are part of a group known as the Seven Churches, albeit the designation does not imply the actual number of churches, many of which were destroyed during Cromwell's reign.
Seeking more privacy, he travelled to the Burren, which was then covered in woodland, around 590, accompanied by a servant. The hermitage is located in the townland of Keelhilla, which is part of the parish of Carran, at the foot of Slieve Carran's cliff. Currently, the site comprises of a small stone oratory, a holy well, Colman's shallow cave, the grave of his servant and a bullaun stone. These have been enclosed by hazel scrub. Colman could not have built the oratory because it is made of stone, since all churches were made of wood during his time.
King Guaire Aidne mac Colmáin's main house was at Kinvara, near the location of today's Dunguaire Castle. He was so inspired by Colman's piety after learning of the hermitage that he invited him to accept episcopal authority of the Aidhne area. In 610, Colman constructed a monastery that became the centre of the tribal Diocese of Aidhne, which was effectively coextensive with the See of Kilmacduagh. This is now known as the Kilmacduagh monastery.
Colman was anointed a bishop despite his reluctance to accept the title. Surney of Drumacoo was one of his companions. He died on October 29, 632. Colman mac Duagh – Wikipedia
St. Æthelstan or Athelstan (king)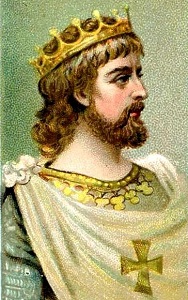 (The Masonic Order of Athelstan in England, Wales and its Provinces Overseas )This Order is a monument to King Athelstan's Spirit. Athelstan was the first English king and the grandson of Alfred the Great. He reigned between 925 to 939 and was a distinguished and fearless soldier who pushed the kingdom's frontiers further than anybody before him. Legend has it that in the year 926, King Athelstan's half-brother Prince Edwin convened a Grand Assembly of masons at York at the king's request, where the great traditions of symbolic and operative masonry were constituted, revived, or organised, and a new code of laws for the governing of the Craft was instituted.
In 927, Athelstan captured York from the Danes and forced King Constantine of Scotland and the northern kings to submit. All five Welsh kings agreed to pay him a large annual tribute, and he suppressed opposition in Cornwall. At the battle of Brunanburh in 937, Athelstan led a British-led force that defeated the king of Scotland, who was allied with the Welsh and Danes from Dublin.
Athelstan's legal codes bolstered royal power over his vast domain. Currency was regulated to manage the amount of silver in circulation, and fraudsters were punished. Buying and selling was mostly limited to the burghs, which encouraged town life. Settlement areas in the Midlands and Danish towns were merged into shires. Overseas, Athelstan forged relationships by marrying off four of his half-sisters to various Western European rulers. He was also an avid collector of artworks and sacred relics, which he distributed to many of his followers as well as churches in attempt to secure the clergy's support.
At the height of his power, Athelstan died in 939 and was buried in Malmesbury Abbey. He was a passionate supporter and endower of the Abbey, therefore it seems natural that he should be buried there, however the body was later removed and only an empty 14th century tomb remains. (Paraphrased Who was King Athelstan?)